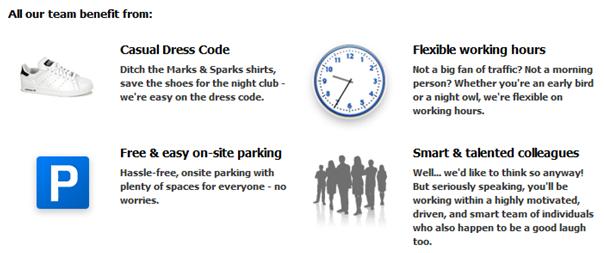 Do you:


Want to become part of a small, lively company where you can really shine and take pride in your work?
Love AJAX, YouTube, Facebook, Digg and generally everything to do with Web 2.0 and aspire to build your own projects at that level?
Think MAMP would beat WIMSA in a fight?
Adhere to the DRY (Don't Repeat Yourself) principle of coding and database design?
Relish the challenge of building cross-(browser)(platform)(media) + compatible code to the highest web standards?
If you have answered yes to all of the above please read on.


Are you:


Keen to show off your skills?
Willing to push yourself to the limit?
A good all-rounder (HTML/CSS/Design skills as well as PHP/MySQL)?
A real team player?
Able to have a good laugh with your co-workers?

Every person in our company plays a key role in its success, and after a few weeks you'll realise just how important you are. With a good salary (dependant on skills and experience) plus bonuses and benefits, you can be sure that you will be looked after well.

Within this position, you'll be working closely with the design team, and will work under the managing director in a variety of development tasks.

Key technical skills in this role would include:


PHP & MySQL
xHTML & CSS (Level 1 & 2)
Javascript
Photoshop

If you're not an expert in all these areas, don't worry. The important thing is that you can demonstrate a willingness to learn
(after all, we want a person, not a machine!).

Although not essential, a knowledge of AJAX, web application frameworks, and Unix systems administration would also be an advantage.

If you're still reading and have a genuine interest in becoming an important member of a fast growing company (maybe you're already in a similar position, but want more than developing things people will never see or appreciate), simply submit URLs of the best examples of your work, along with your CV to jobs-at-globaljournals.org (replace -at- by @). We promise that all applications will be carefully considered and treated with the strictest confidence.